PoleClinometer®
The Ski Pole Inclinometer Sticker
Put the world's lightest and fastest slope meter on YOUR ski pole.
How Steep Is It?
Knowing slope angle is a critical factor in assessing avalanche hazard.  The PoleClinometer® slope meter is the quickest/easiest way to get accurate "on the go" slope angle measurements.  It's a sticker you put on your ski pole that lets you measure slope angle by line-of-sight.
Easy & Versatile
There are many ways to use your PoleClinometer slope meter.  Here are two: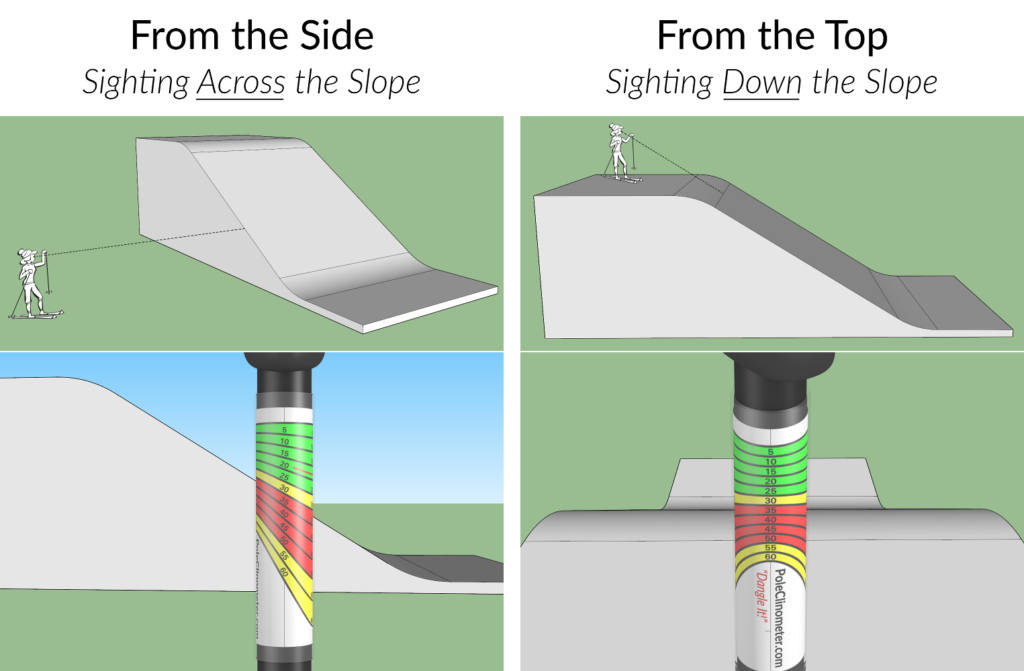 In both cases, just DANGLE IT!  Your pole must HANG FREELY from a loose grip for an accurate vertical reference.
Check out the use instructions for details and other use modes.
Works With
Your

Poles

The PoleClinometer slope meter will fit most ski poles available today.  There are some exceptions, so you might check the fit page just to be certain, but odds are it'll work with what you have.
Ultra-Durable & Made To Last
Go ahead, beat the crap out of your gear.  PoleClinometer can take it.  If you somehow manage to destroy your PoleClinometer sticker before you destroy your pole, just contact us with a photo and we'll send you a replacement free of charge!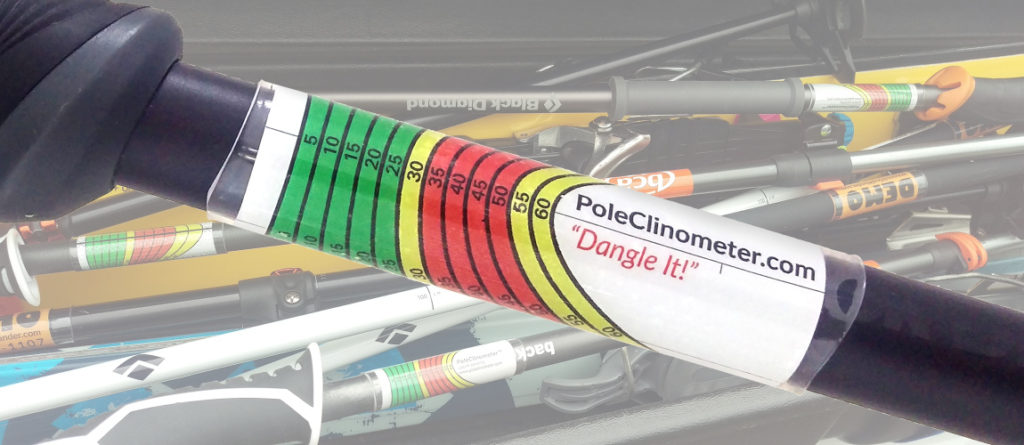 All About Avalanche Awareness
The goal of PoleClinometer is to help people stay safe in the mountains.  By making it quicker & easier than ever to read slope angles accurately, we hope the product will improve folks' awareness of terrain as they travel through it, and ultimately lead to more informed decisions and improved avalanche safety.
But of course inclination is just one piece of the puzzle, and education is where it all comes together.  Your brain is the best tool you have for staying safe in the mountains, so take the time to sharpen that tool with top-notch training.
Know your slope angles.  Ski safe.  Have fun!
---